Need advice and information on health and social care?
What to know about local services that can support you?
Richmond AID is the lead provider for the Community Independent Living Service in Teddington and the Hamptons and we have been commissioned by Adult and Community Services, London Borough of Richmond upon Thames to deliver the Community Independent Living Service (CILS).
We work with a range of partners and are called the Community Partnership.  Please visit our website on www.commpartnership.co.uk for more details.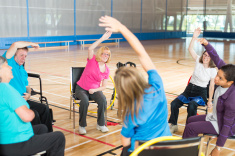 What the service provides
Our aim is to provide services to help people to live as independently as possible within the community. We offer a wide range of services including
Peer groups for people with mental health problems
Befriending
Social activities and social centres
Lunch clubs
Exercise and well-being opportunities
Support groups for people with dementia and their carers
Job clubs, volunteering and education opportunities
Support and activities for older people
Support groups for people who have a neurological condition like Multiple Sclerosis, Parkinson's Disease or who have had a stroke.
Information Navigation Service
Getting the help you need
If you are interested in finding out more we can give you information, advice and support by phone, email, home visit or by appointment at our Information Hub.
Information Hub: Monday to Friday 09:00 to 17:00. Pre-arranged appointments only between 9-11am, 4-5pm, and all day Friday.
Disability Action & Advice Centre
4 Waldegrave Road
Teddington
TW11 8HT
For all enquiries you can contact our Information Navigation team on
Phone: 020 8831 6464
Email: [email protected]
Website: www.commpartnership.co.uk