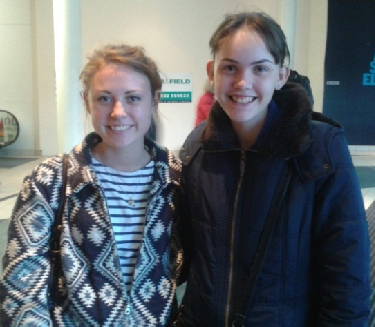 For just six months The Kingston Buddy Scheme has been matching young people, with disabilities, to volunteer buddies to help them gain independence in the community. We have already witnessed great achievements and blossoming relationships. Emma and Alice were paired by the Kingston Buddy Scheme in August of this year and have been meeting ever since. Here is their story.
Alice says:
"I wanted to do some voluntary work during my last year of university because I think that it's a really great way to make the most of your spare time – not only can you contribute to a great cause but you can also help to improve a range of personal skills, so everyone's a winner!
Using my university's volunteering services unit website, I found the Richmond Aid Buddy Scheme. I was instantly drawn to this role because, being a people-person, I liked the idea of being able to build a friendship with someone whilst volunteering. Despite not having done anything like this before, after speaking to Kelly, the buddy coordinator, to discuss joining the scheme I knew that I definitely wanted to take part. Kelly made the role sound really fun and I love trying new things.
I thought it was a good idea that she took the time to find out a bit about me because she was able to find someone I am well-suited to. I first met Emma with her Mum and Kelly, and we had a chat over coffee. Right from the start it was really relaxed and we all got on really well. After discovering that Emma and I have a secret love for One Direction, we went to see their film on our first one-to-one meeting.
I got on with Emma really well and we had loads to speak about. Since then we've been bowling and shopping, and it's been nice having Emma show me round Kingston as it's somewhere which I hadn't been to before. I really look forward to my meetings with Emma because they're an opportunity to relax after a week of university and to have fun with someone I have developed a genuine friendship with."
Sue (Emma's mum) says:
"Emma had previously had a buddy through the Kingston scheme, and when that ceased to run, our contact details were passed on to Richmond Aid. They wrote to us, and then I had a call from Kelly, the coordinator, asking if Emma would be interested in a new buddy.
Initially a meeting was arranged with us and Kelly so that she could get to know Emma, run through how the scheme works and to help her identify a suitable match with a volunteer. Once Kelly had found a volunteer, which was Alice, Kelly then arranged for us all to meet so that everyone could have a chance to chat and it was an opportunity for everyone to see if the match was going to work, from all sides.
Luckily, Emma and Alice seemed to get on right from the start, and as Emma's Mum, I was very happy with the match. Emma has had Alice as her buddy for a couple of months now and is really enjoying their meetings. They have done various activities together such as bowling and the cinema and it has given Emma the chance to meet up socially with someone of a similar age. She is quite isolated otherwise as her friends are not always local or unable to travel on their own, so Emma has really benefited from this scheme.
She is growing in confidence and her social skills have also improved. The scheme is run very professionally, lots of care seems to be taken with the pairings, and I have no concerns when Emma is out with her buddy. Emma loves getting texts from Alice, arranging their next outing, and it is lovely to see her out and about enjoying herself. She is very lucky such a scheme exists and I know she will be very disappointed when it comes to an end!"
 If you are interested in joining or volunteering for The Kingston Buddy scheme please contact Junaina Pirbhai, the buddy coordinator for more information on 020 8831 6079 or [email protected]